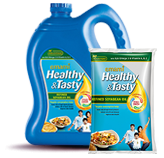 Veg Jhalfrezi
This preparation uses Emami
Healthy and Tasty Refined Soyabean oil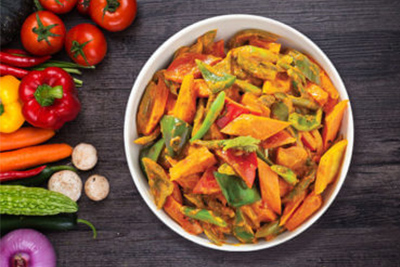 Ingredients

50 gms Healthy and Tasty Soyabean Oil As per requirement
Healthy & Tasty Mantra As per taste
1/2 cup Carrot, Tomato, Cauliflower, Beans, Capsicum Each Cut
1 tbs Cumin seeds
1 tbs Lemon As per taste
5-7 gms Jeera
5-7 gms Dhaniya
3-4 gms Haldi
5-7 gms Chilli powder
5-7 gms Indian Tastemaker
1 tbs Ginger Paste
1/4 pcs Onion Chopped
2 pcs Green chilli Chopped
1/2 tbs Black pepper
1 tbs Garlic Paste
Salt As per taste
1 tbs Coriander leaves Chopped
Instructions

01

Heat soyabean oil in a pan over medium flame. Add cumin seeds, allow to crackle.

02

Add the ginger and garlic paste, and fry for 20 seconds.

03

Add all the chopped vegetables and mix them well.

04

Add Mantra haldi powder, chilli powder, jeera powder, dhaniya powder, salt to taste and pepper powder in the vegetables.

05

Stir to mix well. Add water and cook for about 5 to 10 mins.

06

After the vegetables are cooked well, sprinkle Mantra Indian Tastemaker and mix well for 2 mins.

07

Garnish with coriander leaves.

08

Serve it hot with roti/steamed rice.