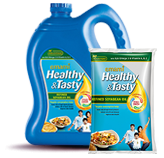 Soya Noodles
This preparation uses Emami
Healthy and Tasty Refined Soyabean oil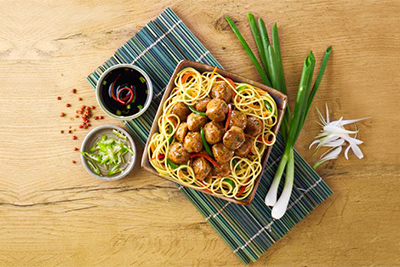 Ingredients

2 cup Noodles
1 cup Nutri soya chunks (boiled and squeezed dry)
2 medium Spring onions (Sliced)
2 tbsp Refined oil
1 medium Carrot (shredded)
¼ tsp White pepper powder
1 tbsp Soy sauce
½ medium Red Capsicum (Shredded)
½ medium Green Capsicum
Salt to taste
Instructions

01

Heat refined oil in pan and fry cooked Nutri soya chunks till light golden brown. Keep aside

02

Fill ¾ of a larger pan with water. Bring it to a boil over a moderate flame

03

Add noodles and cook it for about 4-5 mins

04

Drain and refresh the noodles under cold running water.

05

Heat 2tbsp oil in a non- Stick pan/wok. Add spring onion, carrot, capsicum, and toss.

06

Add the prepared Nutri soya chunks to the vegetables

07

Mix noodles. Put it on a medium flame for few minutes

08

Add 1tbsp oil, salt, soy sauce and toss on high heat.

09

Garnish with fresh spring onion and serve hot.