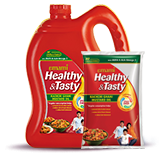 Shorshe Dharosh
This preparation uses Emami
Healthy and Tasty Mustard Kachchi Ghani Oil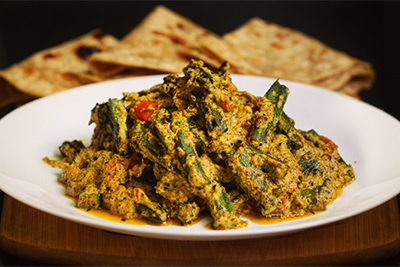 Ingredients

40 g Emami Healthy & Tasty Mantra Shorshe Posto
8 g Salt
4 pcs Green Chillies
100 g Water
40 g mustard oil
¼ tsp kaalo jeere (nigella seeds)
100 g potatoes (2-cm-thick wedges)
200 g dhyarosh (lady's finger; 4-cm long)
15 g Tomato (diced)
1 pinch Turmeric
10 g Sugar
6 g Coriander leaves (finely chopped)
Instructions

01

Soak Emami Healthy & Tasty Mantra Shorshe Posto for8 minutes. Grind the soaked Mantra Shorshe posto, 2 green chillies, 8 g salt and 100 g water, to a smooth paste.

02

Heat 40 g mustard oil in a pan until smoking lightly and pale yellow.

03

Add the lady's finger and fry them until they are brown. Remove from the oil and set aside.

04

Temper the same oil with dried red chillies and kaalo jeere.

05

Add the potatoes and fry on medium heat until they turn golden (about 4 minutes). Add the tomato and fry for another minute before adding the mustard and poppy seed paste.

06

Add turmeric and sugar, and sauté on medium heat until the raw smell of mustard and poppy goes away.

07

Once the potatoes are cooked, add the fried lady's finger back to the pan. Cook everything for another 3 minutes or so, but don't let the lady's finger get too mushy or it will become slimy.

08

Finish with 1 tsp raw mustard oil and chopped coriander leaves.