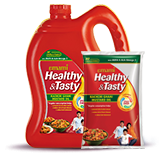 Posto Pabda
(Bengali Fish Curry
In Poppy Seeds
Paste)
This preparation uses Emami
Healthy and Tasty Mustard Kachchi Ghani Oil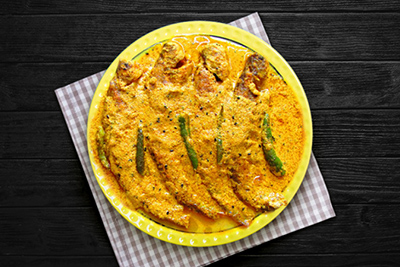 Ingredients

4 Pabda fish
250 grams Emami Healthy & Tasty Mantra Shorshe Posto
1 Teaspoon Kalonji (Onion Nigella Seeds)
4 Green Chillies , slit
1 cup mustard oil
1 Teaspoon turmeric powder.
Salt to taste
Instructions

01

To prepare Posto Pabda Recipe, soak Emami Healthy & Tasty Mantra Shorshe Posto for 8 minutes in water. Prepare with all the other ingredients as well.

02

Grind the Mantra Shorshe Posto to make a fine paste. Keep aside.

03

Clean and wash the fishes well. Drain water nicely and coat the fishes with turmeric powder and keep aside. The fish is cooked whole, hence do not make pieces.

04

Heat 1/2 cup of mustard oil in a Wok/Kadai, add kalonji and allow it to crackle for a few seconds.

05

Now add the fishes gently and fry till golden in color.

06

If the oil reduces, you can add more from sides.

07

When the fishes are golden in color, add the Mantra Shorshe Posto paste in the wok and gently stir in.

08

You may add a little water from the sides if the paste is too thick.

09

Season the curry with salt and add green chillies as well.

10

Allow the curry to come to boil, and then cook for 7-8 minutes on a low flame and lid closed. Do not stir much at this stage.

11

Turn off the gas and pour in a tablespoon of raw mustard oil on top of Posto Pabda Curry Recipe for a rustic flavor and serve hot with plain steamed rice.