Posto Chicken
This preparation uses Emami
Healthy and Tasty Refined Vegetable oil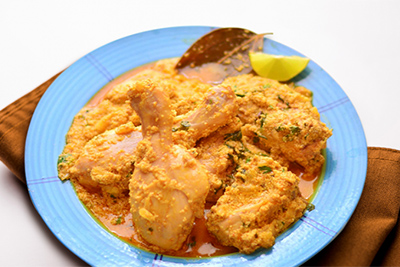 Ingredients

1 Kg Chicken (medium sized pieces)
2 onions Onion paste medium sized
4 Tablespoons Emami Healthy & Tasty Mantra Shorshe Posto
1 Tablespoon Garlic Paste
½ Tablespoon turmeric powder.
Few slitted green chilies
¼ cup Vegetable oil
Salt to taste
¾ Tablespoon Kashmiri mirch powder
1 Tablespoon Sugar
1½ Tablespoon Ghee/Clarified butter
¼ Tablespoon Garam masala powder
For tempering

2 Whole dry red chilies (broken into halves)
4 Green cardamom (lightly crushed)
3 pieces (1") Cinnamon
½ Tablespoon Whole Black peppercorn (lightly crushed)
Instructions

01

soak Emami Healthy & Tasty Mantra Shorshe Posto for 8 minutes in water.

02

grind Mantra Shorshe Posto with 1 green chili and water to smooth paste forms, keep aside.

03

Heat oil in a deep frying pan, temper with all the ingredients mentioned 'for tempering', stir for a few seconds. Add onion paste and sauté until light brown in color.

04

Then add green chilies, turmeric powder, kashmiri mirch powder, and garlic paste. Mix and stir for a minute over medium heat.

05

Next to add the freshly washed chicken pieces and salt, mix well. Cover and cook, stir in between.

06

When the chicken is half cooked, add poppy seed paste and ½ cup of water. Mix well, cover and cook over low heat until the chicken is done. If you feel the gravy is drying up then only add some hot water at this stage.

07

Next to add sugar, garam masala powder, and ghee. Mix well and cook for another 2-3 minutes.

08

Serve hot with roti, luchi, paratha, naan or rice.