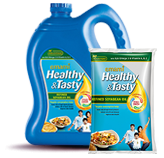 Paneer Do Pyaaza
This preparation uses Emami
Healthy and Tasty Refined Soyabean oil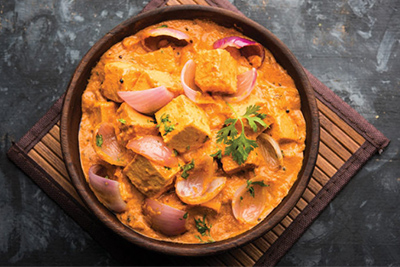 Ingredients

4 tbs Healthy and Tasty Soyabean Oil As per requirement
Healthy & Tasty Mantra As per taste
500 gms Paneer
6 pcs Onion Medium
2 tbs Jeera seeds
2 pcs Green cardamoms Crushed
1 tbs Garlic Paste
1 tbs Ginger Paste
2 pcs Tomatoes Chopped
1/4 cup Tomato Puree
3 gms Haldi powder
15 gms Dhaniya powder
5 gms Chilli powder
7-10 gms Shahi Garam Masala
1/4 cup Fresh cream
1/2 cup Onions Fried
1 inch Ginger Cut into juliennes
1/4 cup Fresh Dhaniya leaves Chopped
Salt As per taste
Instructions

01

Heat a deep non-stick pan and add 2 tbsp of soyabean oil. Cut 2 onions in big pieces. Fry and keep aside

02

Cut paneer into 2-inch triangles/cubes. Sauté it lightly and keep aside.

03

Heat 2 tbsp soyabean oil in another non-stick pan. Add jeera seeds, green cardamoms and 4 sliced onions and fry till onions turn golden brown.

04

Add garlic paste and ginger paste to onions in the deep pan. Sauté and add little water. Mix well.

05

Add tomatoes and tomato puree, mix and cook well. Add Mantra Haldi powder, dhania powder, jeera powder and chilli powder. Mix well and cook till oil separates.

06

Add paneer triangles/cubes and mix well with the masala. Add cream and mix well. Add salt to taste, Mantra Shahi Garam Masala and give a big stir. Add the fried big onion pieces and mix well.

07

Add ginger juliennes and dhania leaves. Mix everything together lightly. Serve hot.