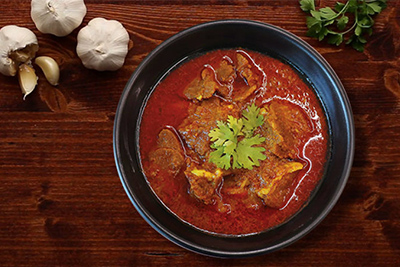 Ingredients

Healthy & Tasty Mantra As per taste
500 gms Mutton Chops
8 pcs Onions
6 pcs Green & Red Chillies As per taste
7-8 gms Haldi powder
3-4 cups Ghee
8-10 gms Shahi Garam Masala
10-12 gms Nawabi Meat Masala
1 tbs Fenugreek seeds
3 tbs Coriander seeds
1 tbs Cumin seeds
2 tbs Lemon juice
2 inch Ginger Chopped
2 tbs each Fresh Coriander Leaves Chopped
Salt As per taste
Instructions

01

Soak red chillies in 1/2 cup of hot water. Chop 2 green chillies and slit the remaining. Sauté slit green chillies in 1 tbsp of ghee, drain and set aside.

02

Chop 4 onions and slice the remaining. Grind fenugreek, coriander, cumin seeds & red chillies together with 1 tbsp of lemon juice. Apply this paste to the chops and marinate for 1 hr.

03

Heat the remaining ghee in a pan. Add sliced onions and fry till brown and set aside. Add chopped green chillies, chopped onions and ginger & blend to a paste. Sauté well and add marinated chops till dry. Add 1 cup of water and mix well.

04

Add Mantra Nawabi Meat Masala, Haldi powder, salt to taste and 1 cup of water. Let it cook for 20 mins. Add Shahi Garam Masala, fried green chillies and stir well. Cook on low heat for 5 mins. Add fried onion paste, mix well and cook on low heat for 5 mins. Serve hot.