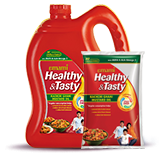 Mutton Curry
This preparation uses Emami
Healthy and Tasty Mustard Kachchi Ghani Oil
Ingredients

Healthy & Tasty Mustard Oil As per requirement
Healthy & Tasty Mantra As per taste
500 gms Mutton Washed and Cut
3 pcs Onions Finely Sliced
1 tbs Ginger garlic paste
4-6 gms Chilli powder
1-2 gms Haldi powder
4-6 gms Dhaniya powder
2-4 gms Jeera powder
10-12 gms Nawabi Meat Masala
Salt As per taste
3-5 gms Shahi Garam
2 pcs Tomatoes Finely chopped
1 cup Yogurt
Coriander leaves Chopped
Instructions

01

Heat oil in a pressure cooker and fry sliced onions. Add ginger garlic paste and fry for 3 mins.

02

Add mutton pieces and roast. Add salt, Mantra haldi powder, chilli powder, dhaniya powder, jeera powder and Nawabi Meat Masala and mix everything well.

03

Cook for 8 -10 mins on low flame. Add chopped tomatoes and cook for 2 mins and add yogurt. Mix well.

04

Pour 1 glass of water and add pressure cook for 7-8 whistles, till the mutton becomes tender or soft.

05

Add Mantra Shahi Garam Masala and mix well for 3 mins. Garnish it with coriander leaves. Serve with rice or roti.