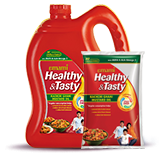 Kosha
Mangsho
This preparation uses Emami
Healthy and Tasty Mustard Kachchi Ghani
Oil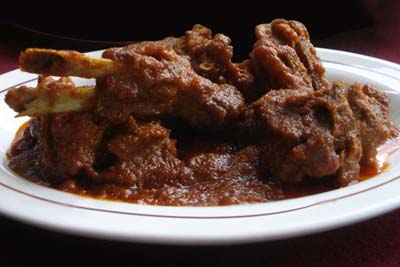 Ingredients

Curry cut mutton(16-18 pc/ kg) front leg and shoulder 1 kg
Onion sliced 500 gms
Ginger paste 20 gms
Garlic paste 15 gms
Turmeric powder 5 gms
Red chilli powder 15 gms
Garam masala powder 2 gms
Mace-nutmeg powder 2 gms
Tomato paste 100 ml
Dahi 50 gms
Whole garam masala 5 gms
Bayleaf
Emami Healthy and Tasty Mustard Kachchi Ghani Oil 250 gms
Salt to taste
Method

01

Clean the mutton thoroughly and marinate with ginger paste, garlic paste, turmeric, red chilli, garam masala, mace-nutmeg, tomato paste, dahi, Emami Healthy and Tasty Mustard Kachchi Ghani Oil and salt. Mix well and marinate for 1 hour.

02

Heat rest of the oil in a kadhai, temper with whole garam masala and bayleaf.

03

Fry the sliced onion in this oil till well browned

04

Add water to the marinated mutton and cook the mutton till it is half done.

05

At this point add the fried and browned onion to the cooking mutton mixture.

06

Keep cooking the mutton on medium heat till it is done. Keep stirring all the time.