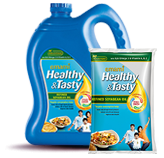 Fish Fry
This preparation uses Emami
Healthy and Tasty Refined Soyabean oil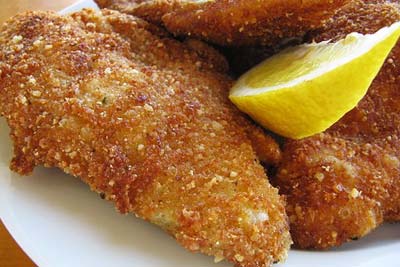 Ingredients

Calcutta bhetki (diamond cut) ( 50 gms net each)
Ginger paste 5 gms
Garlic paste 5 gms
Lime juice 5 ml
Green chilli paste 100 gms
Eggs 3 nos
Breadcrumbs 500 gms
Flour 100 gms
Emami Healthy and Tasty Refined Soyabean oil
Salt
Method

01

In 50 ml of water dissolve 1/2 of the ginger paste, lime juice and salt, keep the fish pieces marinated in this for 15 mins.

02

In a mixing bowl prepare a marinade with rest of the pastes, lime juice and salt. drain the fish out of the water squeeze lightly and put into the 2nd marination, keep for 20 mins.

03

Break the eggs in a bowl or flat dish, dust the fish pieces with flour and dip in the egg.

04

Crumb and shape the fish with the back of a knife.

05

Deep fry in hot Emami Healthy and Tasty oil till golden brown. Drain and serve 2 pcs per portion with lime wedges and kashundi.