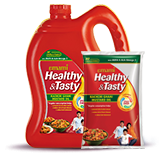 Chole Masala
This preparation uses Emami
Healthy and Tasty Mustard Kachchi Ghani Oil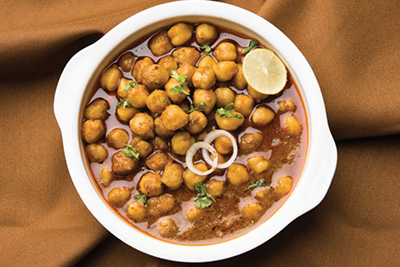 Ingredients

2 tbs Healthy and Tasty Mustard Oil As per requirement
Healthy & Tasty Mantra As per taste
2 cup Chole Soaked overnight
1 pcs Bay leaf
1 pcs Cinnamon Stick
3 pcs Onion Finely Chopped
1/2 tbs Jeera seeds
7-8 gms Shahi Garam Masala
1 tbs Ginger garlic paste
2 pcs Tomatoes Finely chopped
5 gms Aamchur powder
5 gms Chilli powder
4 gms Haldi powder
10 gms Dhaniya powder
8 gms Jeera powder
3 pcs Dhaniya leaves Finely Chopped
Salt As per taste
1 pcs Lemon
Instructions

01

In a cooker, heat mustard oil. Sauté bay leaf, cinnamon stick and jeera seeds till they turn aromatic.

02

Add finely chopped onions and fry till it turns brown. Add ginger-garlic paste. Sauté till it turns golden brown. Add tomatoes and sauté till they start releasing oil.

03

Add Mantra chilli powder, Haldi powder, dhania powder, jeera powder, amchur powder and salt. Sauté for 2-3 mins.

04

Add soaked chole. Add 2 cups of water. Give a good mix. Make sure the masala water to be slightly salty as chole will absorb while cooking.

05

Pressure cook for 7-8 whistles on medium flame. Allow the pressure to release by itself before opening cooker.

06

Now add Mantra Shahi Garam Masala and squeeze a lemon. Mix well and cook in low heat for 3-4 mins. Garnish with dhania leaves.

07

Finally, serve hot with poori/chapathi/bhatura.