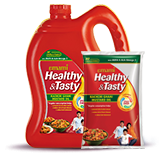 Chicken Masala
Curry
This preparation uses Emami
Healthy and Tasty Mustard Kachchi Ghani Oil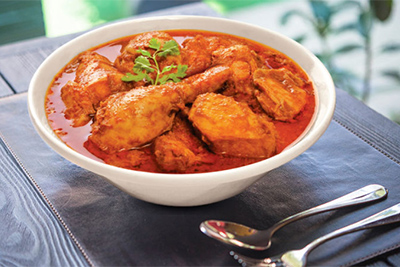 Ingredients

3 tbs Healthy and Tasty Mustard Oil As per requirement
Healthy & Tasty Mantra As per taste
750 gms Chicken
2 pcs Cinnamon
2 pcs Cloves
5-6 pcs Onion
2 tbs Ginger garlic paste
4 gms Haldi powder
12-14 gms Dhaniya powder
12-14 gms Chilli powder
Salt As per taste
10-12 gms Special Chicken Masala
10-12 pcs Kaju Grinded
3 pcs Tomatoes Puree
2 tbs Dhaniya leaves
Instructions

01

In a pan, add mustard oil and heat it. Add cinnamon sticks and cloves into it. Add sliced onions and cook them until soft and brown.

02

Add salt as per taste. Add ginger-garlic paste and sauté for a few minutes.

03

Add marinated chicken (with salt, Mantra Haldi and chilli powder) and roast it until the colour changes.

04

Add Mantra Haldi powder, chilli powder, dhania powder and mix well.

05

Roast the chicken on a medium flame for few minutes until oil starts separating. Add tomato puree, Mantra Special Chicken Masala and cook well.

06

Add Kaju paste and cook till the chicken gets soft.

07

Add freshly chopped dhania leaves.

08

Cook for a few more minutes.

09

Serve with rice or roti.