Chicken
Fried Steak
This preparation uses Emami
Healthy and Tasty Refined Vegetable Oil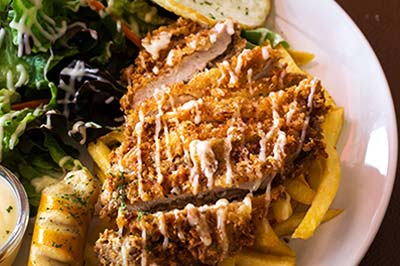 Ingredients

2 eggs
2 cups milk, at room temperature
3 cups flour
1 tsp. Garlic powder
½ tsp. Salt
½ tsp. Pepper
2 Cups Emami Healthy and Tasty Refined Vegetable Oil
3 pounds tenderized Chicken round steak
Method

01

Whisk eggs and milk together in a bowl and set aside.

02

Combine flour, garlic, salt and pepper in another bowl.

03

Fill a skillet with about 1/4 inch Emami Healthy and Tasty Oil and heat to 350 degrees.

04

Cut steak into desired size and dip each cutlet in the egg wash mixture.

05

One at a time, dredge them in the flour, then dip them back into the egg wash, and very gently place them in the hot oil.

06

Cook for 3 to 5 minutes, until golden brown before carefully turning.

07

Cook another 3 minutes.

08

Remove steaks from skillet and let them rest on a plate lined with paper towels.

09

Let oil reheat and repeat process for next batch.

10

Serve hot.