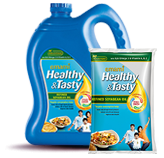 Butter Chicken
This preparation uses Emami
Healthy and Tasty Refined Soyabean oil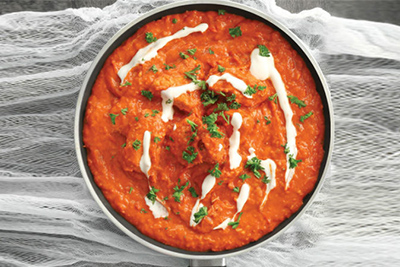 Ingredients

2 tbs Healthy and Tasty Soyabean Oil As per requirement
Healthy & Tasty Mantra As per taste
400 gms Boneless chicken cubes
1/2 cup Tomatoes Puree
4 tbs Butter
3 tbs Ginger garlic paste
2 cup Yoghurt
7-8 gms Chilli powder
3-4 gms Shahi Garam Masala
10-12 gms Special Chicken Masala
1 tbs Lime juice
2 pcs Clove
1 inch Cinnamon
Salt As per taste
1 pcs Cardamom
1 Black pepper
Instructions

01

Marinate the chicken in lemon juice, salt and Mantra chilli powder in a bowl and keep aside.

02

Add half yoghurt to the chicken. Add ginger and garlic paste, salt, soyabean oil, Mantra chilli powder and Shahi Garam Masala. Mix well and refrigerate for 3-4 hrs.

03

Grill/pan fry the chicken on a pan for 12-15 mins. Coat the chicken with butter and grill till it gets light brown.

04

Heat the butter in a pan and add black pepper, cardamom, cinnamon and cloves. Sauté for 2 mins and then add ginger and garlic paste. Sauté for 2 mins. Add tomato puree, chilli powder, 1/2 cup water and salt to taste.

05

Bring it to boil, add Mantra Special Chicken Masala, sugar and then simmer for 10 mins. Add the cooked chicken pieces and cook for 5 mins.

06

Add fresh cream and Kasuri methi. Stir well, keep in low heat for 5 more mins.

07

Serve hot with rice or roti.