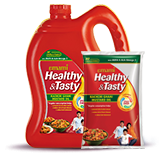 Bhindi Masala Fry
This preparation uses Emami
Healthy and Tasty Mustard Kachchi Ghani Oil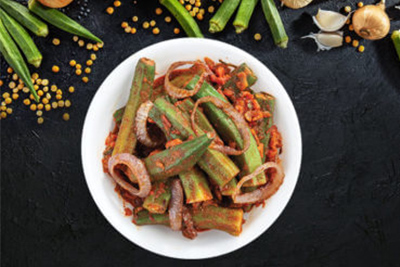 Ingredients

3 tbs Healthy and Tasty Mustard Oil As per requirement
Healthy & Tasty Mantra As per taste
300 gms Bhindi Chopped
2-3 gms Haldi
2-3 gms Chilli As per taste
5-7 gms Jeera
5-7 gms Dhaniya
5-7 gms Shahi Garam Masala
5-7 gms Indian Tastemaker
1/2 tbs Cumin seeds
1 pcs Onion Thinly sliced
1 pinch Hing
2 tbs Ginger garlic paste Puree
1 pcs Green chilli Slit, As per taste
Salt As per taste
1/2 tbs Aamchur/dry mango powder
1 tbs Coriander leaves
Instructions

01

In a kadhai heat oil, add chopped bhindi. Fry till it turns slightly golden brown and keeps aside.

02

Sauté cumin and hing till they turn aromatic. Add onion and continue to sauté.

03

Add ginger-garlic paste, green chilli and sauté well.

04

Add spices and salt to taste. Sauté on low flame till the spices get cooked well.

05

Add the fried bhindi and mix gently. Add Mantra shahi garam masala, cover and simmer for 3 mins.

06

Sprinkle Mantra Indian tastemaker and mix for 2 mins.

07

Serve hot garnished with coriander leaves.