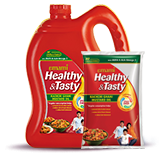 Bengali Aloo Dum
This preparation uses Emami
Healthy and Tasty Mustard Kachchi Ghani Oil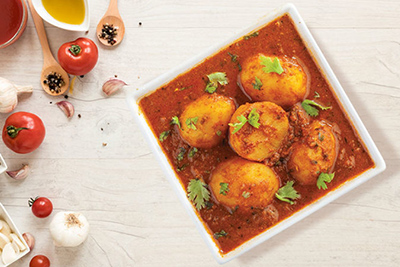 Ingredients

2 tbs Healthy and Tasty Mustard Oil As per requirement
Healthy & Tasty Mantra As per taste
200 gms Baby Potatoes Boiled and Peeled
1/2 cup Homemade Tomato Puree
2 tbs Curd
4-5 gms Shahi Garam Masala
5 gms Chilli powder
4-5 gms Jeera powder
4 gms Dhaniya powder
4 gms Haldi powder
1 tbs Sugar As per taste
1 sprinkle Dhaniya leaves Finely Chopped
2 pcs Onion Roughly Chopped
1 inch Ginger Chopped
3 pcs garlic
2 pcs Green Chillies Chopped
Salt As per taste
Instructions

01

Add the onions, ginger, green chillies and garlic into the blender and grind into a smooth paste.

02

Heat mustard oil in a frying pan. Fry the boiled potatoes with a pinch of Mantra Haldi powder and salt. Keep them aside.

03

Add oil in the same pan. Add onion, ginger-garlic paste. Sauté the mixture on low heat for 3 mins.

04

Add pureed tomatoes, Mantra Haldi powder, dhania powder, jeera powder, chilli powder and mix well.

05

Stir the ingredients until they are well combined with the onion paste.

06

Add yoghurt, stir and mix well. Next, add potatoes, 1 tbsp of sugar and Mantra Shahi Garam masala

07

Cover the pan and simmer the potatoes on low heat for about 5-7 mins. Turn off the heat.

08

Garnish with dhania leaves and serve hot.