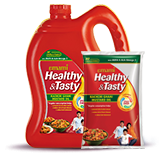 Begun Basanti
This preparation uses Emami
Healthy and Tasty Mustard Kachchi Ghani Oil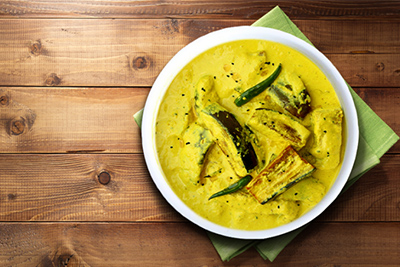 Ingredients

8 - 10 semi thick circles of eggplant
2 Tablespoons Emami Heathy & Tasty Mantra Shorshe Powder
3 Tablespoons Curd
1 Tablespoons turmeric powder.
Pinch nigella seeds / kalojeera.
3-4 green chilies
Salt and sugar As per taste
Half cup mustard oil
Warm water
Instructions

01

To make the Shorshe Posto paste, soak 2 tsp of Mantra Shorshe posto in water for 8 minutes, then grind them with some salt, water and green chilies.

02

Take 2 Tablespoons of that Shorshe Posto paste, curd, half Teaspoon of turmeric powder, half Teaspoon of mustard oil, some salt and half Teaspoon of sugar. Mix it well and keep aside.

03

Marinate the eggplant with some salt and turmeric powder. Then fry them in hot oil till golden in colour.

04

After that heat 2 Tablespoons of mustard oil in a pan.

05

Saute nigella seeds and green chilies in hot oil for few seconds.

06

Now add that curd and mustard mixture into the hot oil. Cook well for 5 - 7 minutes.

07

Now add the fired eggplant, salt and very little warm water. Mix gently and cook for 5 minutes, then turn off the heat.

08

Lastly sprinkle little mustard oil all over it.

09

Let it rest for few minutes then serve.

10

Your begun basonti is ready. Serve this hot with steamed rice.