Beer
Battered Fish
This preparation uses Emami
Healthy and Tasty Refined Vegetable Oil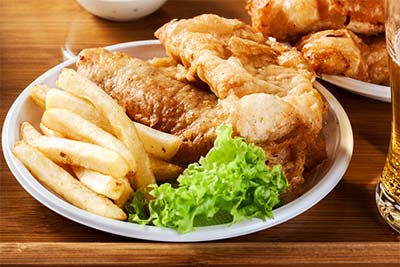 Ingredients

1 Cup all-purpose flour
1 Egg, beaten
1 tsp. garlic powder
½ tsp. ground black pepper
Salt to taste (optional)
1½ cups beer
2 pounds, cod fillets or other fish
1-2 quarts Emami Healthy and Tasty Refined Vegetable Oil
Method

01

In a bowl add flour, beaten egg, garlic powder, black pepper and salt.

02

Stir in 1 cup beer (add more for your desired texture).

03

Heat Rice Bran Oil in a deep fryer or heavy sauce pan.

04

Cut fillets into 3-4 ounce pieces.

05

Rinse, fish and pat dry with a paper towel.

06

Dip fish fillets into the batter, then drop one at a time into hot oil.

07

Fry fish, turning once, until both sides are golden brown.

08

Drain on paper towels, let fish cool a little and serve.

09

This batter is also good on shrimp, calamari and onion rings.