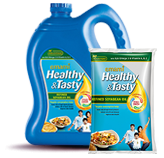 Aloo Jeera
This preparation uses Emami
Healthy and Tasty Refined Soyabean oil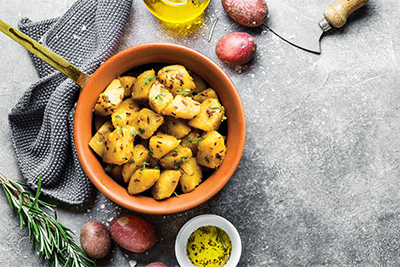 Ingredients

1 tbs Healthy and Tasty Soyabean Oil As per requirement
2-3 gms Healthy & Tasty Mantra Haldi
200 gms Boiled Potato Peeled and Chopped
7-8 gms Healthy & Tasty Indian Tastemaker
1/2 pcs Ginger Chopped and peeled
2 tbs Cumin seeds
2 pcs Green chilli Chopped
6 pcs Curry leaves
1 tbs Coriander leaves
1 pinch Hing
Salt As per taste
Instructions

01

Take a pan and add oil in it. Heat it over medium flame.

02

Once the oil is sufficiently hot, add cumin seeds, hing and fry for a min.

03

Add the green chillies, ginger and curry leaves. Fry the ingredients for 30 seconds and then add the chopped potatoes. Stir fry for 2-3 mins.

04

Add salt and Mantra haldi powder.

05

Mix the ingredients well and cover the pan with a lid. Reduce flame to low and cook the dish for 4 to 5 mins. Stir once or twice in between to mix well.

06

Once the potatoes are properly cooked, sprinkle Mantra Indian tastemaker and mix for 2 mins.

07

Serve hot garnished with fresh coriander leaves and pair with roti or paratha.