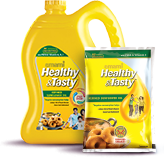 Dry
Chilli Chicken
This preparation uses Emami
Healthy and Tasty Sunflower Oil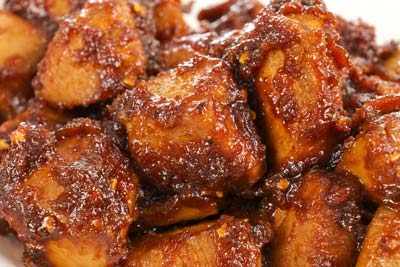 Ingredients

Chicken (Small Pieces) - 500 gms
Soya Sauce - 3 tbsp.
Green Chili - 6 to 8 (chopped)
Capsicum - 1 Piece
Corn flour - 3 to 4 tbsp.
Egg - 1 Piece
Garlic - ½ tsp. (chopped)
Onion - 2 (cut into pieces)
Emami Healthy and Tasty Sunflower oil
Onion sliced in the form of rings
Salt to taste
Method

01

Marinate the chicken pieces with 1 Teaspoon of Soya Sauce for 1 hour.

02

Next add the egg and cornflower in the chicken and deep fry in Emami Healthy & Tasty Sunflower Oil till brown.

03

Next, in 3 Teaspoons of oil add capsicum, chopped chilies, garlic and onions and mix well with soya sauce.

04

Then add the chicken pieces, the sliced onion rings, salt in a fry pan and saute.

05

Serve hot.