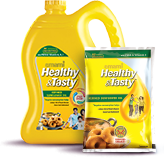 Dragon Fish
This preparation uses Emami
Healthy and Tasty Sunflower Oil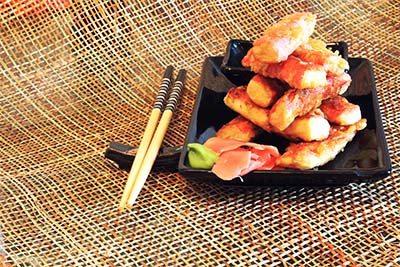 Ingredients

Bhetki fillet - 8-10 pieces
Cornflour - as required
Pepper - 1 tsp.
Lemon juice 1 tsp.
Emami Healthy & Tasty Sunflower Oil
Carrots - 1 piece
Beans - 50 gms
Cabbage - ¼ portion
Garlic, chopped - 1 tsp.
Chilli, chopped - 4/5 pieces
Soya Sauce - 1 tbsp.
Vinegar - 1 tbsp.
Stirred Fry Sauce - 1 tbsp.
Salt - As required
Method

01

Marinate the bhetki fillets with Salt, Pepper powder and Lemon juice for 20 minutes.

02

Whip the Egg and the Cornflower together, and dip the fillets into the mixture. Deep fry in Emami Healthy & Tasty Sunflower oil.

03

Heat 4 tablespoons of oil in a pan and fry the chopped up vegetables.

04

Now mix the sauces, ½ cup water and 1 tablespoon of cornflower and add the fried fillets and to this mixture cook for a while.

05

Serve with hot rice.