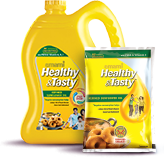 Dahi Bhalla
This preparation uses Emami
Healthy and Tasty Sunflower oil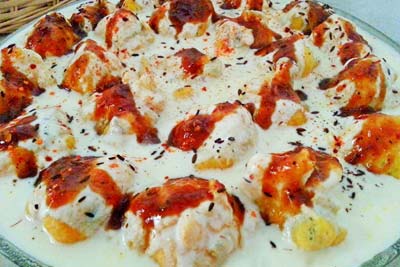 Ingredients

Split black gram - 1½ cups
Raisins - 20
Red chilli powder - 1 tsp.
Asafoetida (Hing) - a pinch
Emami Healthy & Tasty Sunflower oil
Yogurt - 500 gms
Rock salt (kala namak) - 1 tsp.
Roasted cumin powder - 2 tsp.
Sugar - 2 tsp.
Coriander leaves - As required
Salt - To taste
Method

01

Wash and soak Split black gram (dal) in water for 6-8 hours. Grind the dal to a smooth paste.

02

Add 1 teaspoon salt, ½ teaspoon red chilli powder, raisins and asafoetida to the paste and stir well.

03

Heat the oil in a pan. Shape the batter like vadas and fry well in Emami Healthy & Tasty Sunflower Oil.

04

Place the vadas in hot water and let them soak for 2 minutes.

05

Drain out water and place the vadas/bhallas on a service plate. Mix yogurt well with rock salt (Kala namak) and sugar.

06

Cover the bhallas with yogurt. Add tamarind chutney.

07

Sprinkle red chilli powder and roasted cumin powder. Garnish with coriander leaves, chopped green chillies and serve.