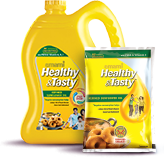 Crispy
Fried Chicken
This preparation uses Emami
Healthy and Tasty Sunflower oil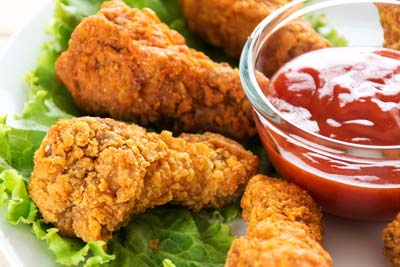 Ingredients

Chicken Leg Pieces - 6 nos.
Ginger Garlic paste - 1 tsp.
Chilli Powder - 1 tsp.
Tomato Sauce - 1 tsp.
Chat Masala - 1 tsp.
Garam Masala (Aromatics) - ½ tsp.
Lemon juice - 1 tsp.
Egg - 1 Piece
Corn flour - 4 tsp.
Emami Healthy & Tasty Sunflower oil
Salt to taste
Biscuit crumb - as required
Method

01

Mix the chicken with all the ingredients, cornflower and marinate it for 1 hour.

02

Then put the chicken in a microwave oven to heat for 4 minutes at 100% temperature.

03

Take the chicken out and wait for it cool down.

04

Now whisk egg and dip the chicken pieces into the egg mixture and add the biscuit crumbs to it.

05

Deep fry in hot oil Emami Healthy & Tasty Sunflower oil and serve hot.