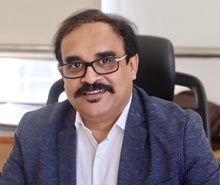 Mr. Sudhakar Rao Desai
CEO & Director
A Management Graduate from IRMA, Gujarat Mr. Sudhakar Rao Desai has more than 30 years of industry experience. He has been elected as the President of IVPA in September 2019. He is presently the Chairman of Agri and Food Council, Eastern India ASSOCHAM,(2019).
Mr. Desai is also an active member of Industry Trade Bodies like SEA (Solvent Extractors Association) and has served as the Director of Bombay Commodity Exchange.
He is part of the Organizing committee member of GlobOil and also a Member of Product Committee of Commodity Exchanges in India.
Prior to joining Emami Agrotech Limited as the CEO, Mr. Desai was with Bunge India Pvt. Ltd. as Director/Vice President. Earlier he worked as Chief Trader, with ITC Agrotech/ConAgra.